Hi-Q Health/ FucoHiQ® Dietary Supplement
Hi-Q is a well-established brand in the health supplement market, offering a wide range of dietary supplements under the brand names "Hi-Q health" and "FucoHiQ®." Hi-Q has successfully developed a range of dietary supplement that utilize our own ingredient OliFuco® and FucoBalan® as the key ingredients and have achieved remarkable sales figures in Taiwan and oversea market.
Our products have been highly recommended by pharmacists and doctors, resulting in widespread adoption and availability in the market. Currently, more than 3,500 pharmacies, hospitals, and clinics stock and sell our health supplement products, reflecting strong market penetration.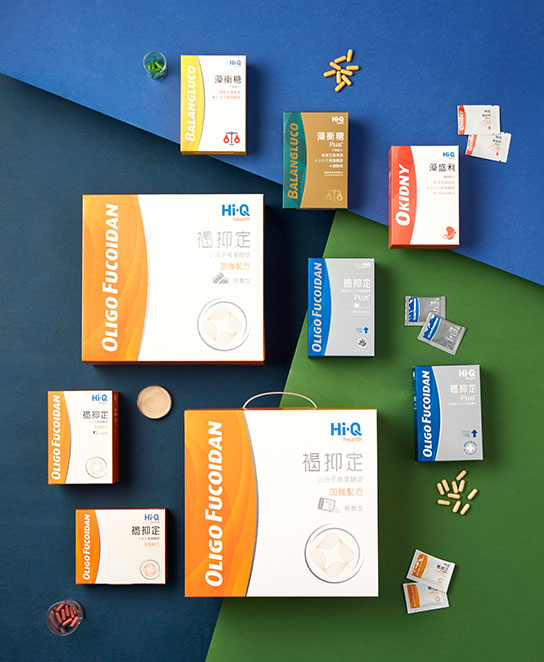 Hi-Q's success in the health supplement market can be attributed to a combination of factors, including our commitment to research and development, focus on quality and safety, strong market penetration, and the trust and satisfaction of our customers and healthcare professionals. As we continue to grow and expand, we remain dedicated to empowering individuals to lead healthier and happier lives through our innovative health supplement offerings.
Brand Reputation and Trust
Hi-Q has earned a strong reputation as a trusted brand in the health supplement market. Our commitment to quality, safety, and efficacy has gained the trust of customers, healthcare professionals, and retailers alike.
Cutting-edge Research and Development
Hi-Q's success in the health supplement market can be attributed to our continuous investment in research and development. Our team of experts works tirelessly to innovate and improve our products, ensuring that we stay at the forefront of the industry.
International Expansion
Besides the thriving sales figures in Taiwan, Hi-Q's health supplements have gained recognition and popularity in overseas markets. Our products have successfully entered multiple international markets, gaining a strong foothold and attracting a growing customer base.
Customer Satisfaction
At Hi-Q, customer satisfaction is at the core of our business philosophy. We receive positive feedback from numerous satisfied customers who have experienced the benefits of our health supplements firsthand. This word-of-mouth endorsement and high customer satisfaction have contributed significantly to our continued growth and market success.
Certifications and Quality Assurance
Hi-Q's health supplement products hold various certifications and endorsements from reputable organizations, affirming their quality, safety, and compliance with regulatory standards. These certifications serve as a testament to our commitment to providing consumers with premium, reliable products they can trust.
Continuous Innovation
As the health supplement market evolves, Hi-Q remains committed to staying ahead of the curve. Our dedication to continuous innovation ensures that we offer customers the most cutting-edge and effective solutions to support their health and wellness goals.